As she took a leisurely stroll in LA, Jennifer Lopez effortlessly showcased her fashion prowess by donning a pair of suspenders that perfectly complemented her fiancé Ben Affleck's outfit. It's no secret that JLo is a style icon who always manages to raise the fashion bar.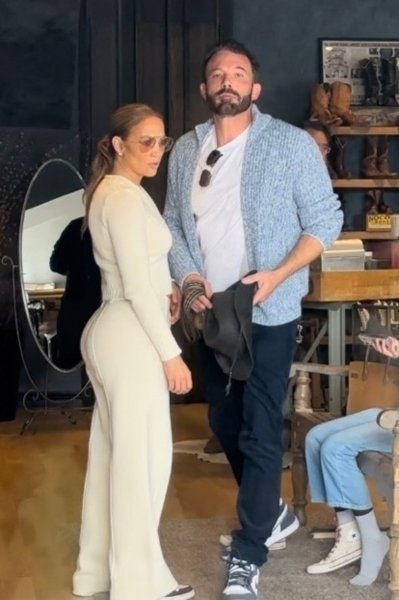 On Tuesday, Bennifer was spotted in coordinated neutral outfits. J.Lo looked trendy with her gray high-waisted suspender pants layered over a white T-shirt, accessorized with a black Chanel belt, an Hermès Birkin bag, wire-framed sunglasses, and fresh white sneakers. Her diamond stud earrings and chic bun added a touch of sophistication to her relaxed ensemble. The fashion statement she made reminds us that forgotten trends can make a comeback if styled correctly.
Ben decided to change things up and step out of his usual fashion routine. Instead of his usual assortment of flannels, he chose a cream-colored sweater paired with a dark gray T-shirt for a more refined look. He kept his signature scruffy beard and slightly-messy hair, which perfectly complemented his outfit consisting of light gray trousers and bright blue sneakers.
J.Lo was seen running some errands in a stylish yet laid-back outfit, just a few days after being spotted in a similar look while out by herself. Her most recent outfit consisted of a gorgeous blue maxi dress with a V-neckline and a cinched waist, complemented by flat sandals, rose-tinted aviator glasses, and her signature silver hoops. Many people were excited for Jennifer Lopez and Ben Affleck's debut at the Met Gala, but unfortunately, they did not show up on the red carpet this year. However, they did make an appearance together at last year's event, shortly after news of their reunion in July 2021. Jennifer wore a stunning low-cut dress and cowboy hat, and the couple shared a kiss through their masks before entering the museum.